Dear Friend,
Here is our latest bulletin following the updating of the website.
Support of new Archbishop of Edinburgh and St Andrews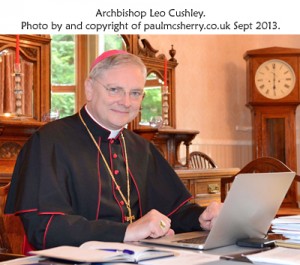 We are pleased to add to the support for the pilgrimage by other church leaders with the message of the new Archbishop, Leo Cushley. A native and former parish priest of Lanarkshire, he arrived last year from Rome to take over the Archbishopric. He says ":  'I am pleased to support this initiative and encourage everyone to take part, especially the young".
The Archbishop also indicated his interest in running a hostel for pilgrims during his holidays.
New Route – Carlisle to St Andrews
We are currently doing initial research into a route from Carlisle to Whithorn to Paisley and thence to Linlithgow and the Forth Road Bridge where it picks up St Margarets Way to St Andrews. The Solway centre is researching traditional pilgrim routes and places of historical and religious interest in the area.
Please let us know of any places or tracks which should be included.
St Margaret's Loop
St Margaret's Way, from Edinburgh to St Andrews, passes over the Forth to North Queensferry , which is less than 4 miles from Dunfermline, where the remains of Queen Margaret of Scotland (and King Robert the Bruce) are buried, and is therefore an important place to visit. We are currently researching a route to Dunfermline , which returns to St Margaret's Way, to be called St Margaret's Loop.
This is a fairly built-up area, so we welcome recommendations of quiet roads and tracks.
Circuit at St Andrews
Those arriving at St Andrews can now follow a 4km circuit , starting at an inn which, in medieval times, provided food for pilgrims on arrival at St Andrews, and visiting the buildings and memorials which tell the history of St Andrews. The link for the route is http://www.bikemap.net/en/route/2415590-st-andrews-circuit-2/#/z11/56.33361,-2.89085/terrain
For groups wanting an expert guide round St Andrews, please contact us . There is no charge, but donations to the St Andrews Preservation Society are welcome .
Junior pilgrims
In many schools in America pilgrimage forms part of the curriculum, so we are establishing a pilot scheme for schools in Midlothian and Fife. Short routes are being identified on St Margaret's Way for secondary schoolchildren to make half- day pilgrimages.
Pilgrim Advice
For many going on pilgrimage for the first time there are a great many questions. Thousands have asked these questions before and, of course, the answers keep changing. The Confraternity of St James in London has a website and library to help pilgrims. The advice is mainly geared to those going on pilgrimage to Spain, but is also very relevant to those planning to go to St Andrews. The website is http://www.csj.org.uk/join.htm.
Please visit the website http://www.thewayofstandrews.com/ or keep up with us on Facebook.
Regards
The Secretary, Edinburgh, Scotland